---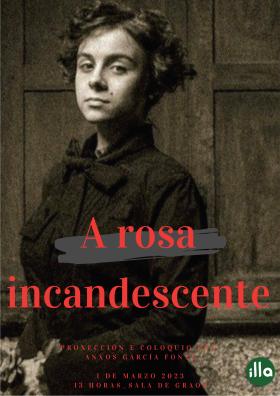 Screening of A rosa incandescente
March 1st 2023, 13 h
Sala de graos of the Faculty of Philology (UDC)
ILLA organizes this screening, which will be followed by a colloquium with the scriptwriter of the movie, Anxos García Fonte.
---
A rosa incandescente was conceived as a cinema script by Anxos Garía Fonte, a doctorate from UDC in Galician Studies and a highschool teacher.
The shooting of the short film took place during the last days of July 2021 in Pazo Sabadelle and its surroundings and it was directed by David Vázquez. The movie had Bruno Máez as director of photography, Ana Gesto in costume desing, Alicia Fernández in atrezzo and Tamara Lorenzo in musical accompaniment. Alba López starred as Rosalía de Castro.
The movie wants to show a close and straightforward Rosalía de Castro that takes us to some of the most important aspects of her work: the passion for the oral literature, her commitment to her country, the sentivity with the outcasts of society, the socio-economic analysis of her time and, especially, the difficulties she had to face as a woman and a writer. Rosalía is the same incandescent rose of intelligence, sensitivity and passion for what she does.