---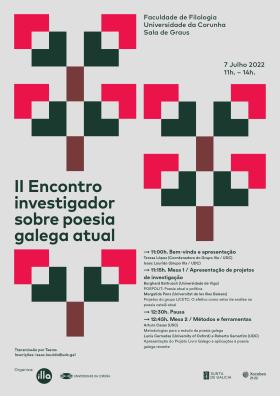 ILLA organises the 'II Encontro investigador sobre poesia galega atual'
7th July 2022
Faculty of Philology Conference Room (Salón de graos), UDC
The meeting, coordinated by Isaac Lourido, a member of ILLA, will bring together experts in the field who carry out their research in Galician and international universities.
---
The meeting will take place according to the following programme:
11:00. Welcome and presentation
Teresa López (ILLA Group Coordinator, UDC)
Isaac Lourido (ILLA Group, UDC)
11:15. Table 1: Presentation of research projects
Burghard Baltrusch (University of Vigo): POEPOLIT: Current poetry and politics.
Margalida Pons (University of the Balearic Islands): Projects of the LiCETC group: The affective as a vector of analysis in current Catalan poetry.
12:30. Break
12:45. Table 2: Methods and tools
Arturo Casas (USC): Methodologies for the study of Galician poetry.
Lucía Cernadas (Oxford University) and Roberto Samartim (UDC): Presentation of the Proxecto Libro Galego and applications to recent Galician poetry.
The meeting will be streamed via Teams. Those interested in attending online can register by sending a message to isaac.lourido@udc.gal.