---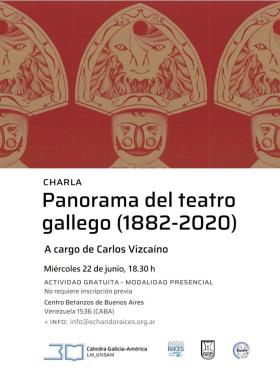 'Panorama del teatro gallego (1882-2020)'
22nd June 2022
Centro Betanzos (Buenos Aires)
Carlos-Caetano Biscainho-Fernandes will present a lecture on the modern Galician theatre.
---
Professor Biscainho-Fernandes, member of ILLA, will talk about a century and a half of the history of modern Galician theatre in the Galician language, presenting the main aesthetic currents and their authors and reference works.
The event is organised by the Galicia-America Chair, the Centro Betanzos in Buenos Aires, the Civil Association Echando Raíces and Radio Enxebre at the Centro Betanzos in the city of Buenos Aires.
It will take place on 22 January at 18:30.