---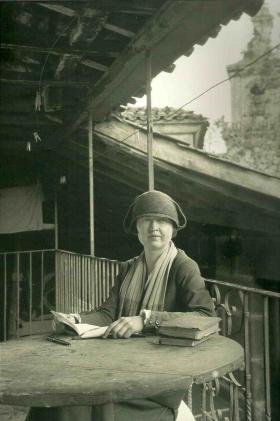 Arredor de Ruth M. Anderson: Kathleen March en conversa con Pilar García Negro
8th June 2022
NORMAL. Espazo de intervención cultural, Paseo de Ronda 47
ILLA collaborates in the organisation of this activity.
---
Between 1924 and 1926, Ruth Matilda Anderson travelled twice to Galicia on behalf of the Hispanic Society of America to carry out a photographic reportage. During these trips she took 8,000 photographs, some of them still unpublished. Anderson was also the author of a volume, Gallegan Provinces of Spain: Pontevedra and La Coruña (1939), published by the HSA, which brings new perspectives to Ruth Matilda Anderson's gaze on Galicia.

Kathleen March is Professor Emeritus at the University of Maine, winner of the Galician Culture Outreach Award and a leading translator and scholar of contemporary Galician literature. Among her numerous works, she has devoted attention to English and American women travellers in Galicia.

Pilar García Negro is honorary professor at the UDC. A prominent Rosalianist, she has also paid attention to the teaching of Galician language and literature, to the language-reading connection and to the edition and recovery of the contemporary classics of Galician literature.
In the framework of the exhibition Cabria para NORMAL by Diego Vites - which includes a photograph by Ruth M. Anderson - both will be in dialogue around the work of the American photographer, scholar and writer.