---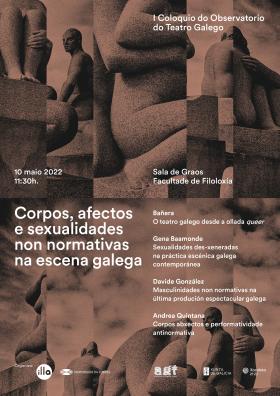 'Corpos, afectos e sexualidades non normativas na escena galega'
10th May 2022
Faculty of Philology Conference Room (Salón de graos)
The Observatorio do Teatro Galego (OTG) holds its first colloquium.
---
This meeting, coordinated by Prof. Carlos-Caetano Biscainho-Fernandes, is the inauguration of the activities of the Observatorio do Teatro Galego.
The conference, which will take place on the 10th at 11:30 a.m., will be developed according to the following programme:
Bañera: 'O teatro galego desde a ollada queer'
Gena Baamonde: 'Sexualidades des-xeneradas na práctica escénica galega contemporánea'
Davide González: 'Masculinidades non normativas na última produción espectacular galega'
Andrea Quintana: 'Corpos abxectos e performatividade antinormativa'
The Observatorio do Teatro Galego has been created within the framework of the collaboration protocol between the UDC and the Academia Galega de Teatro, promoted by the ILLA group, as an academic space for the documentation and research of Galician theatrical activity, with the aim of serving as a repository of its documentary evidence.