---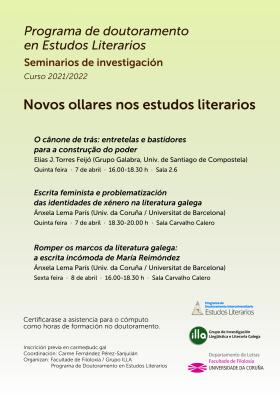 Seminar on "Novos ollares nos estudos literarios"
7th and 8th April 2022
Sala 2.6 and Sala Carvalho Calero
Organises by Programa Interuniversitario de Doutoramento en Estudos Literarios, ILLA group and the Faculty of Philology.
---
The seminar will be held in three sesions, the first one by Elias J. Torres Feijoo and the remaining two will be led by Ánxela Lema París.
To attend and receive the certificate of attendance you must register by sending an email to carme@udc.gal with your personal details (full name, ID number, email) before 14.00 h on 7th April.