---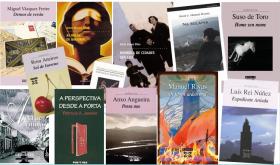 Rehabilitation of historical memory in Galician literature of the 21st century
24th March 2022
Agrupación Cultural Alexandre Bóveda
Diego Rivadulla will participate in the meeting Aula Aberta organized by AC Alexandre Bóveda and Grupo ILLA.
---
Diego Rivadulla, postdoctoral researcher at the Illa Group, will talk about the importance of the role of literature in the recovery of historical memory. Literature, specifically, narrative and theater are an essential contributor in the conformation of a Galician cultural memory of the civil war and Franco's regime.
The conference is part of the cycle Aula Aberta organized by the AC Alexandre Bóveda in collaboration with the ILLA Group, which aims to establish a space for dissemination and exchange on issues of Galician literature and culture.
The activity will take place at the location of AC Alexandre Bóveda this Thursday, March 24, at 7:30 pm. To attend, it is necessary to register on the website of the association by sending a form.