---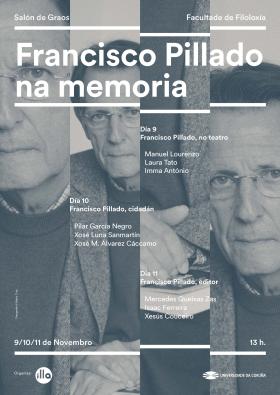 ILLA organises the conferences 'Francisco Pillado na memoria'
9th, 10th and 11th November 2021
Faculty of Philology Conference Room (Salón de graos)
The group organises this event as a tribute to Francisco Pillado Mayor, a reference in Galician theater studies and a key figure in Galician culture in recent decades.
---
The next days 9, 10 and 11 November, at 13h, will take place in the Faculty of Philology Conference Room (Salón de graos) the conferences "Francisco Pillado na memoria", organized by the ILLA Group.
This celebration aims to serve as a tribute and gratitude to the figure of Pillado, who developed throughout his life an intense activity in defense of Galician culture. He did an immense job translating theatrical texts, founded the publishing house of reference in Galicia Laiovento, was a researcher and historian of Galician theater, contributed to the organization and creation of cultural networks and groups ... He dedicated his life to the dignification not only of our theater, but of our culture.
The conferences will revolve around the three fundamental axes of its cultural work: theater, activism and publishing.
Program
Day 9. Francisco Pillado, no teatro
Speakers: Manuel Lourenzo, Laura Tato and Imma António
Moderator: Carlos-Caetano Biscainho-Fernandes
Day 10. Francisco Pillado, cidadán
Speakers: Pilar García Negro, Xosé Luna Sanmartín and Xosé M. Álvarez Cáccamo
Moderator: Cilha Lourenço Módia
Day 11. Francisco Pillado, editor
Speakers: Mercedes Queixas Zas, Isaac Ferreira and Xesús Couceiro
Moderator: Carme Fernández Pérez-Sanjulián
In parallel to the conferences, an exhibition will be held in the center's library with some samples of Francisco Pillado's legacy, donated to the University and organized in the funds of the 'Francisco Pillado Mayor' Theater Archive.