Hired
---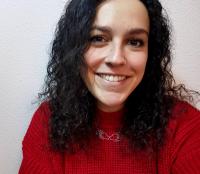 Ánxela Lema París
Ánxela Lema París is Graduated in Galician and Portuguese: Linguistic and Literary Studies (2013) from the University of A Coruña. In 2020 she obtained the title of Doctor, with international and cum laude mentions, with the thesis entitled Deconstructing Poetic Eroticism from Non-Monogamies. Study and Re-reading of Galician Erotic Poetry and its Critical Reception in the First Decade of the 21st Century, directed by Carme Fernández Pérez-Sanjulián and Marta Segarra (Universidade da Coruña / Université Paris 8 Vincenntes Saint Denis). She also completed postgraduate studies such as the Master's Degree in Literature, Culture and Diversity (2014), the Master's Degree in Theory of Literature and Lusophone Literatures (2015) and the Master's Degree in Teaching Compulsory Secondary Education, Baccalaureate, Vocational Training and Language Teaching (2021).
She was a lecturer of Galician language, literature and culture and a temporary teacher at the Université Sorbonne-Nouvelle Paris 3 (2015-2018), a lecturer in Spanish language at the Institut Universitaire de Technologie d'Amiens-Université de Picardie Jules Verne (Amiens, France / 2017-2018); and researcher at the Ramón Piñeiro Center for Research in Humanities (2018-2020). She is currently a postdoctoral resercher (Margarita Salas) at ILLA (Research in Galician Language and Literature).
Her fields of research are gender and literary studies, especially the analysis of how the sex-gender system and the monogamous system influence when it comes to relating to literature.