---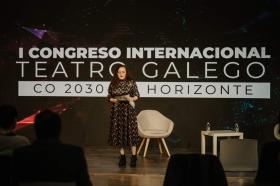 I International Congress on Galician Theatre takes place
7th to 10th October 2020
Cidade da Cultura (Santiago de Compostela)
The sessions of this international congress started today, 7th October, under the subtitle 'Co 2030 no horizonte' ("with 2030 on the horizon").
---
The Congress, promoted by the Academia Galega do Teatro, is born with the aim of deeply reviewing everything that affects theater, society and theatrical policies.
ILLA and the Francisco Pillado Mayor Theater Library-Archive are listed as collaborating entities in carrying out this event, which involves Carlos Biscainho in the Organizing Committee and Laura Tato in the Scientific Committee.
In the session of the 7th, ILLA promotes a panel with the participation of Carme Fernández Pérez-Sanjulián, Diego Rivadulla and Xosé Manuel Sánchez Rei, together with Xosé Ramón Frexeiro Mato, in which diverse aspects of the Galician theater of the 20th and 21st will be approached from an academic perspective. Also, on the afternoon of the 8th, Laura Tato will present the new stage of the publications of the Francisco Pillado Mayor Theater Library-Archive.
More information about the congress: https://congresodoteatro.gal/index.html